Our mission statement
Our mission is to be faithful followers of Jesus; focusing on reaching out into our community by ministering to and serving others, offering an inclusive and loving church, and sharing the word of God. We live out the statement: "It's not what you believe but in whom you believe."
Who we are
We are honored that you have chosen to visit with us or have shown interest in our church. We have been here on the corner of Peabody and McLean for almost 90 years; in fact, Easter Sunday 2013, will be our 90th birthday. Throughout those years we have had a great heritage of ministry and service through our denomination, The Disciples of Christ. The Disciples of Christ has a long history, dating back into the mid-1800s, and today boasts a worldwide membership of well over a million people. We count over 460 congregations in the U.S. alone, and some of our sister churches in Memphis are Lindenwood Christian, Mississippi Boulevard Christian, Kingsway Christian, New Direction Christian and Decatur-Trinity Christian.
As we enter our 10th decade of trying to be faithful servants of Jesus, our focus and our mission is reaching out into our community, serving others, ministering to everyday needs and sharing the love and Word of God. The words and deeds of Christ point to Jesus' great command: "Love one another". As you visit with us, we sincerely hope that you feel Christ's love and acceptance while you are in our midst.
Ministry Opportunities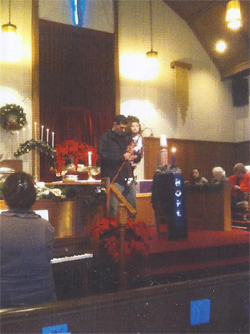 Ministry and outreach take many forms at Central. The most obvious function of any congregation is weekly worship, and we invite you to join us on Sunday mornings at 9:45 for Sunday School and 10:45 for worship. We also would love for you to be with us for supper and Bible study on Wednesday evenings at 6:30. All of our services are relatively informal, and we do not feel a coat and tie or traditional dressy attire is necessary. Come and worship as you feel comfortable.
Worship, however, is only the tip of the iceberg. Led by the Disciple Women's Ministry, our outreach goes in many directions. It reaches deeply into the Binghampton area with our support of "Rachel's Kids". Found by Rachel Greer, and her late husband Harry, members of Central, Rachel's Kids provides for many, many needs of young, impoverished African-American children not very far from our church's doors. We sponsor our own clothes closet for the community on the last Saturday of each month, as well as support the students and administration of Gordon Elementary School. In addition, we provide support for MIFA, Memphis Food Bank, The Church Health Center, and other local charitable programs. We enjoy sharing our facilities with other organizations that reach into the community, and we invite groups looking for meeting space to contact us. And, lastly, we partner with other Disciples of Christ congregations across the country in supporting denominational ministries both around the globe and here in our own country. The hope and prayer of the people of Central Christian is that others may come to know the Saviour through the love which we show in His name.